The Best Outboard Motor Support for Trailering
Tow With Confidence
The MotorMate outboard locking system is the single best way to protect your outboard motor transom, steering cables and hydraulics during transport of a boat and outboard motor. More stable than any transom saver, motor toter or swivel bar, MotorMate is designed to fit snugly to most Evinrude, Johnson, Mercury and Yamaha outboard motors for the very best trailering support.
Protect Your Investment
As a boater, you know your outboard motor is a major investment, so protecting it while towing to and from the water is a top priority. MotorMate helps you protect your investment while towing a boat – both on the highway and off-road – by keeping the outboard motor from bouncing and jostling. This kind of movement can inflict collateral damage to your engine's steering cables, hydraulic lines, housing and finishing. The MotorMate locking system locks the outboard motor in place, preventing costly damage to the steering system and excess torque on the transom, and also releases pressure on the hydraulic system, delivering unbeatable motor support for trailering.
Choose Smart Design
MotorMate was originally designed to eliminate some very specific and common problems present in other outboard motor trailering transom support and stabilization options. EPCO is proud of the MotorMate design and high-quality manufacturing standards; these principles are what drive us to support MotorMate with a lifetime warranty.
Marine-Grade Stainless Steel: All tubing, plunger, pins and springs are made of marine-grade stainless steel. This is important so that it provides a lifetime of service, especially in salt water conditions.
Powder-Coated: MotorMate is powder-coated – not painted – to deliver further durability and product protection.
End Caps: One common and major concern from boating experts is that the end caps perform properly. MotorMate end caps are constructed of high-impact nylon and are designed to not cut the ground wire of any motor.
Ground Wire Safety: MotorMate is designed to keep the ground wire safely away from all stress points.
Bend Prevention: Double tube manufacturing is used to help evenly distribute the weight of the outboard motor, therefore preventing bending at any stress points.
Customer Reviews
We're confident our product is your best option for outboard motor transom support. But don't take our word for it – take a look at what our customers have to say!
"This new rocking red MotorMate is going on my new Shell Rotella Ranger 521c! Have a chartreuse MotorMate on my Quaker State 521c Ranger! Pure protection for my boat and my 250 Mercs! Wouldn't run without MotorMate!"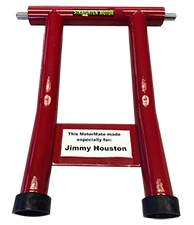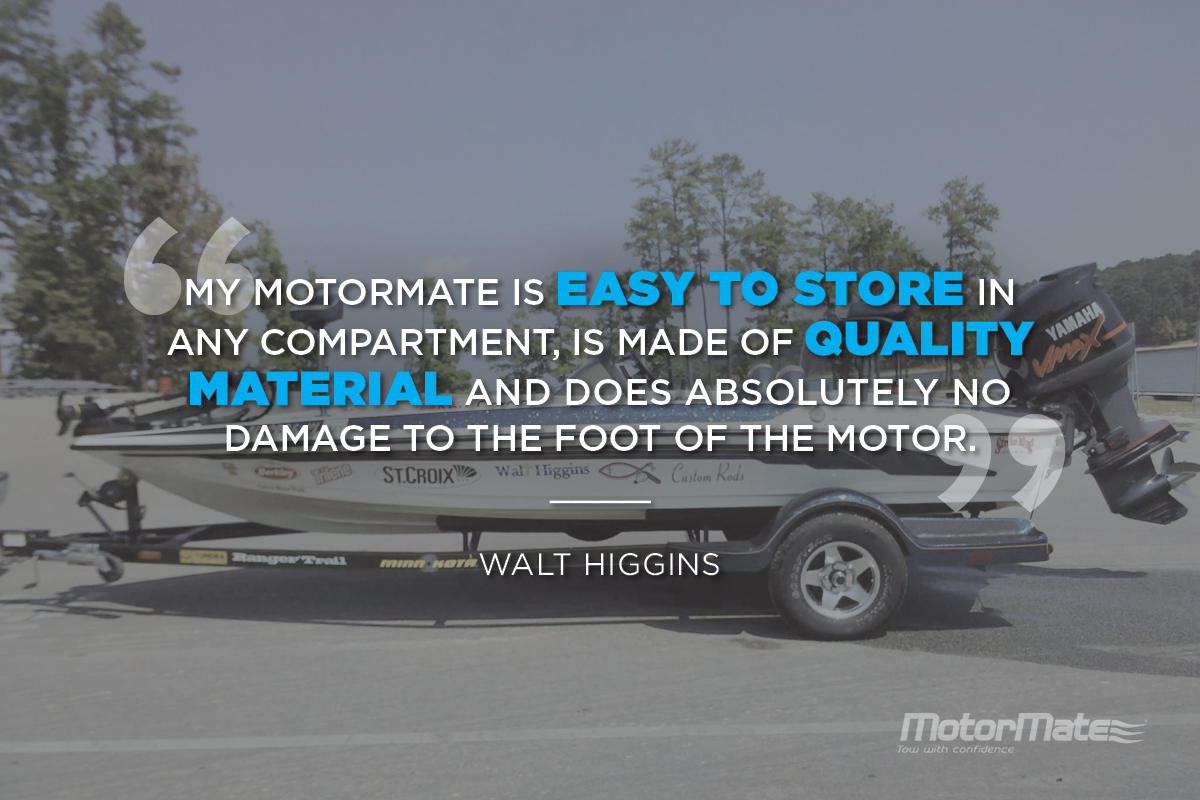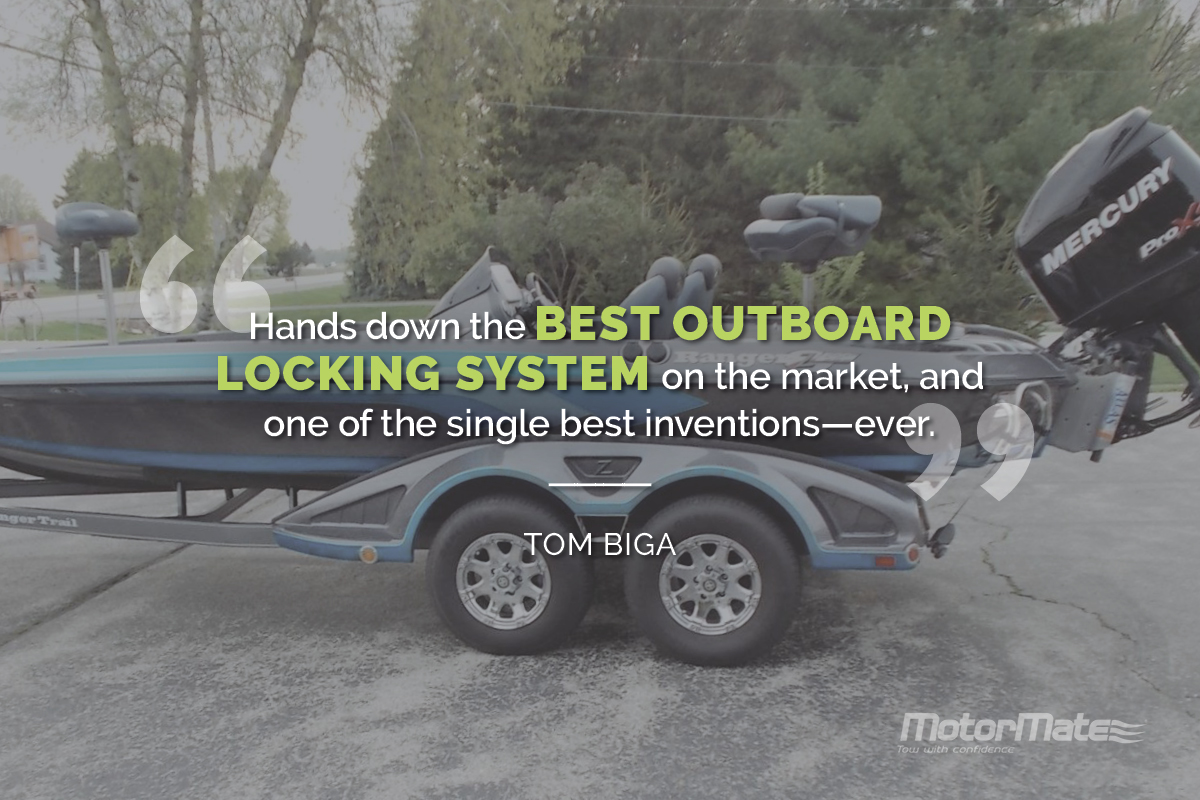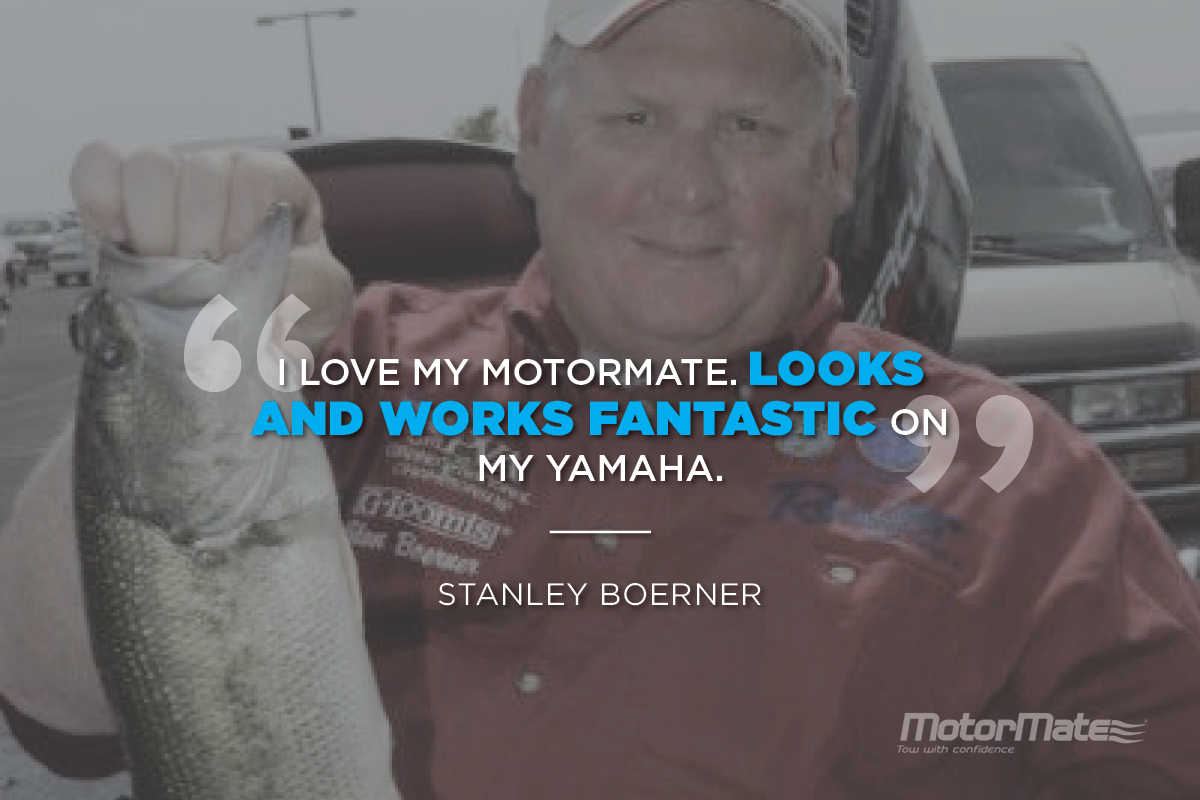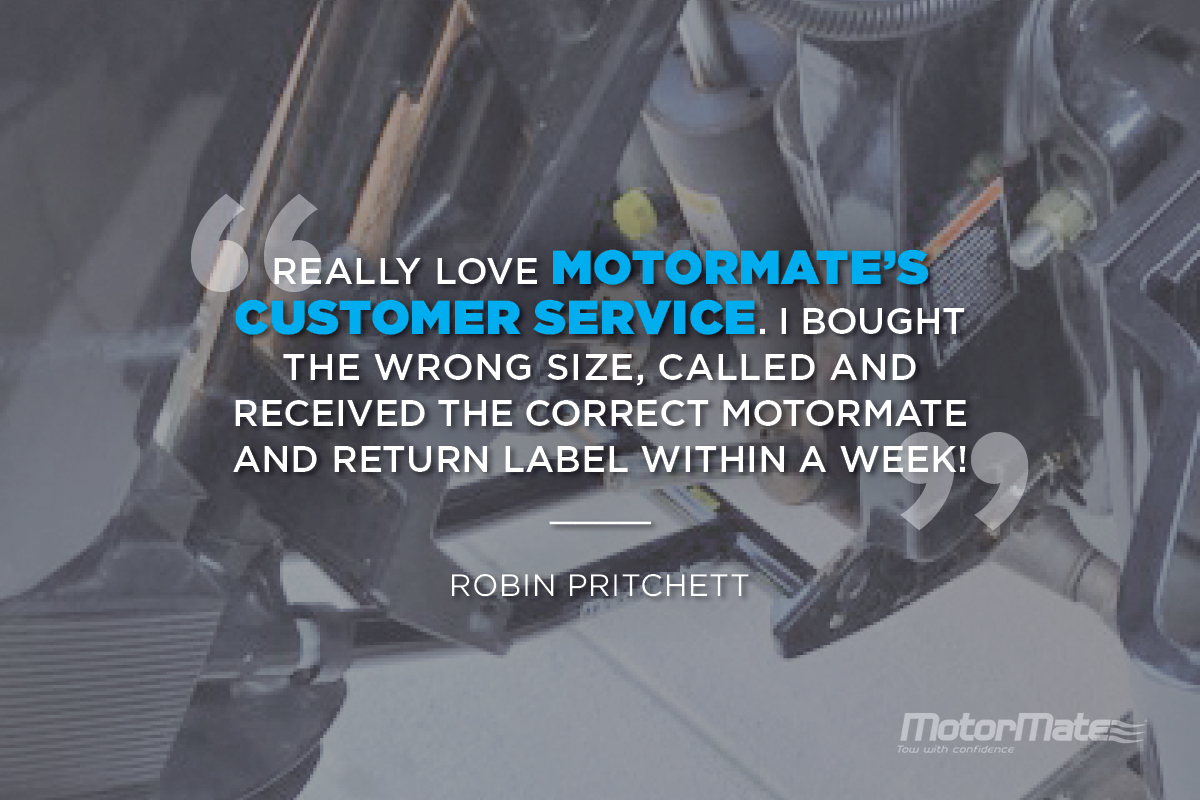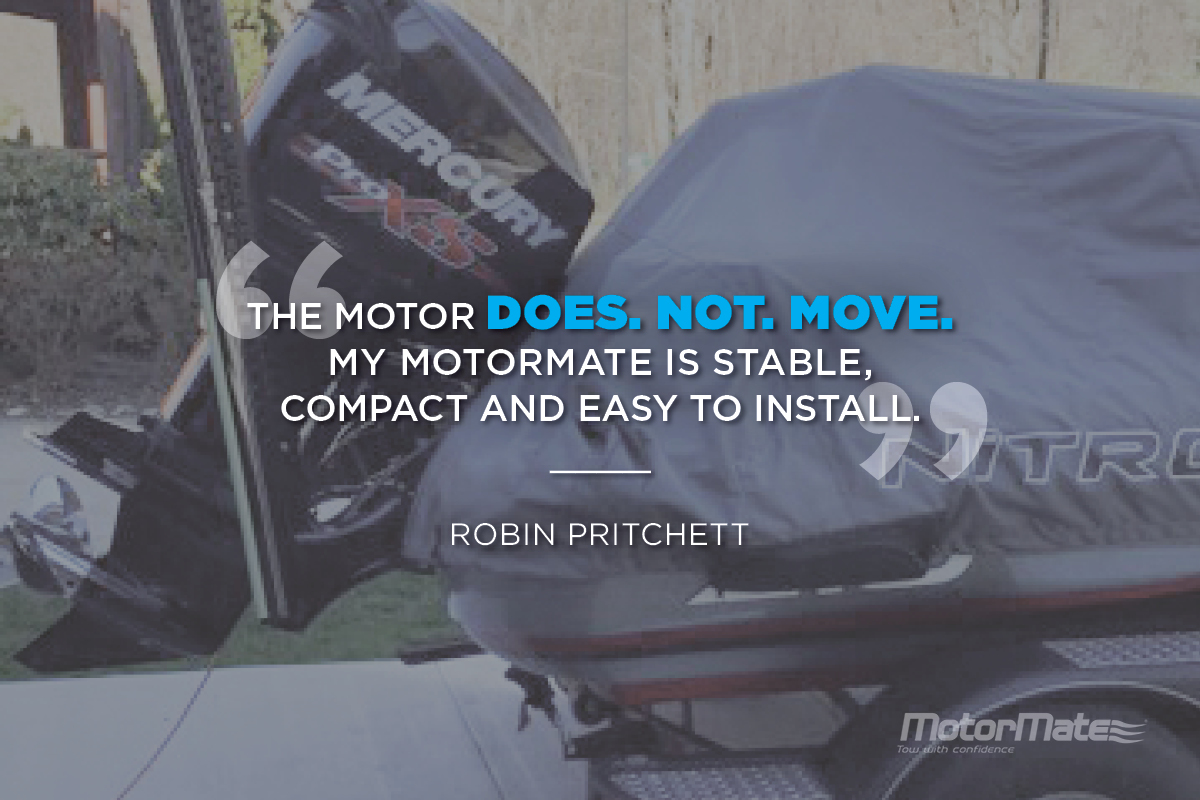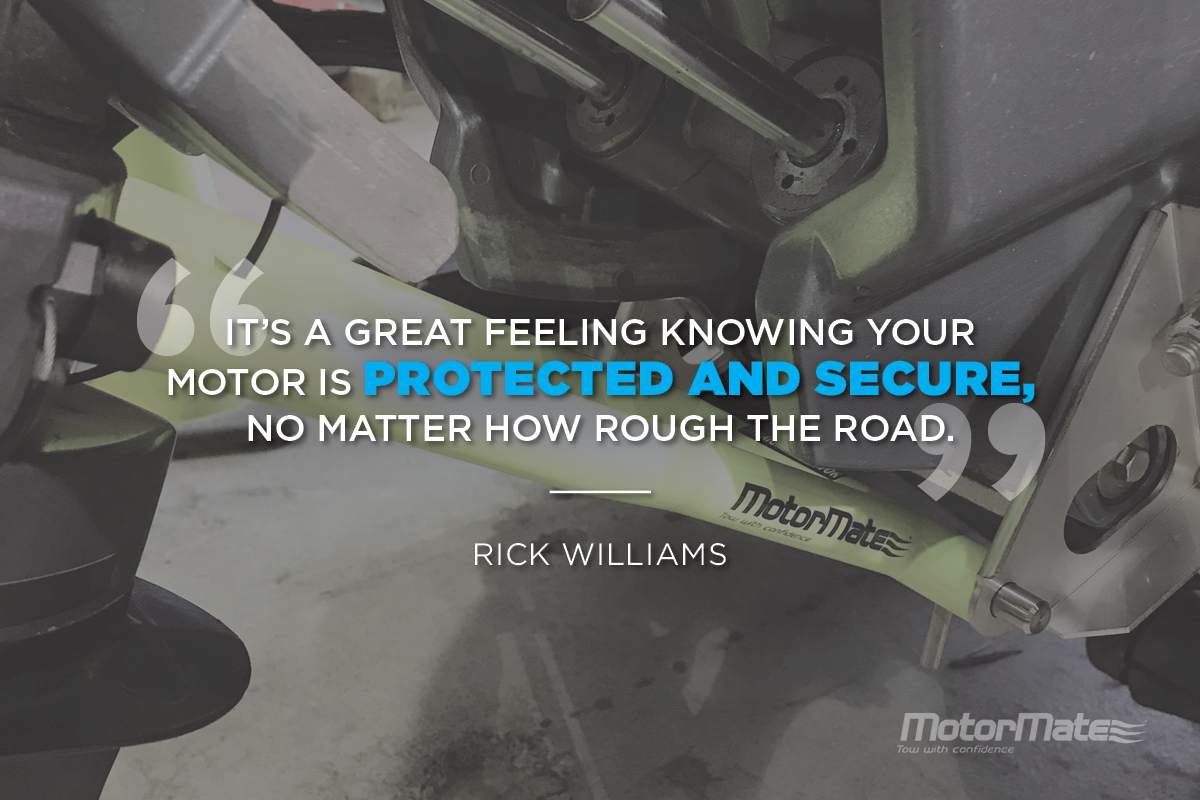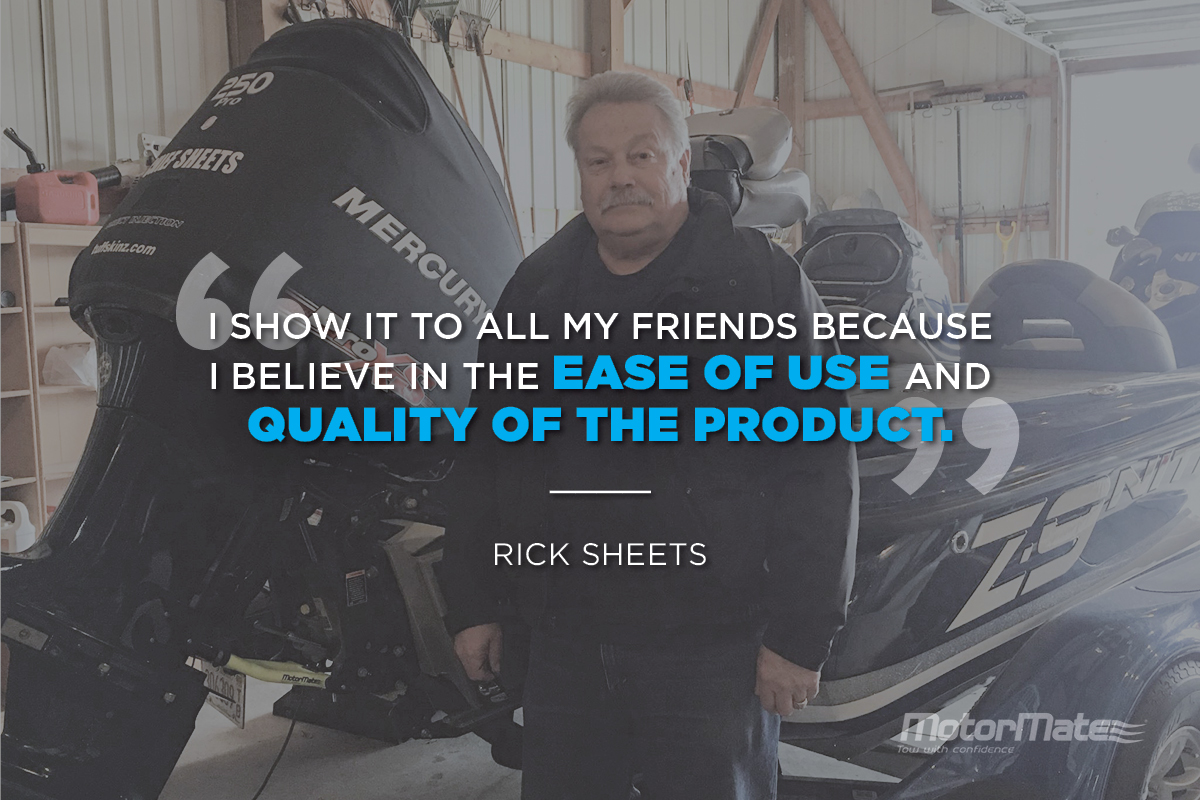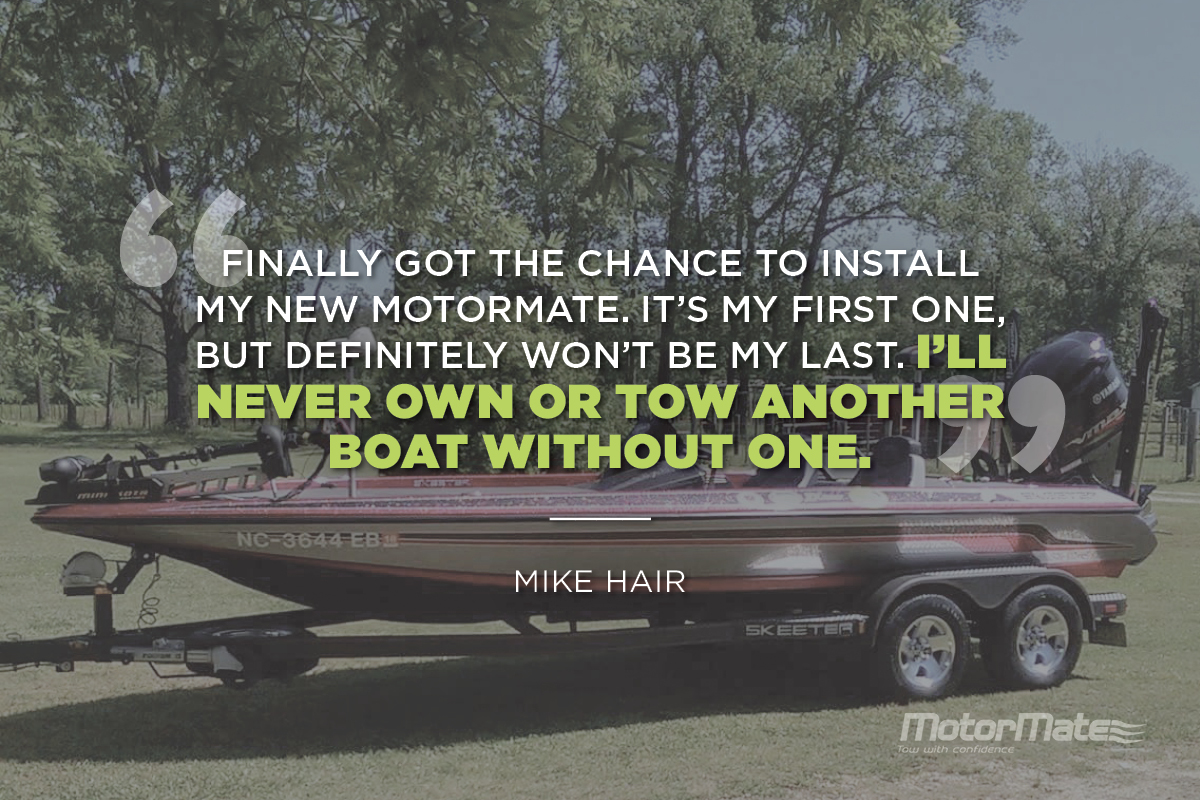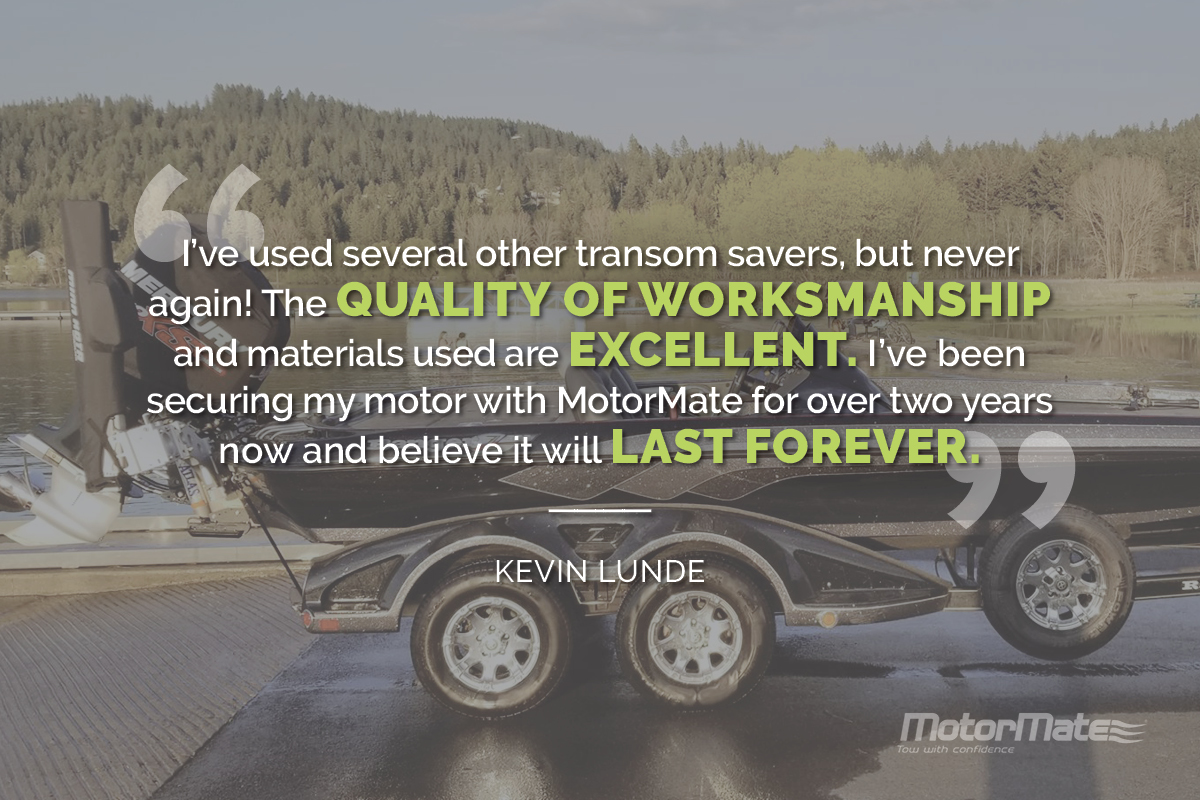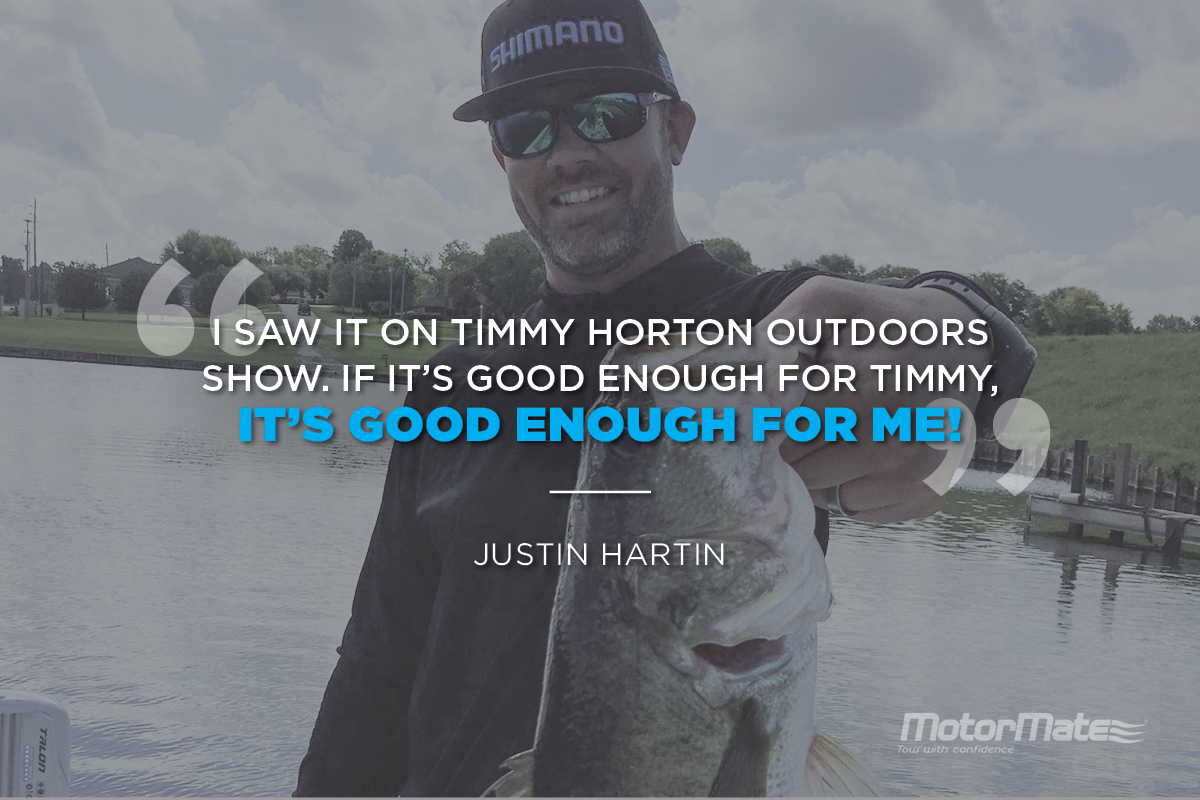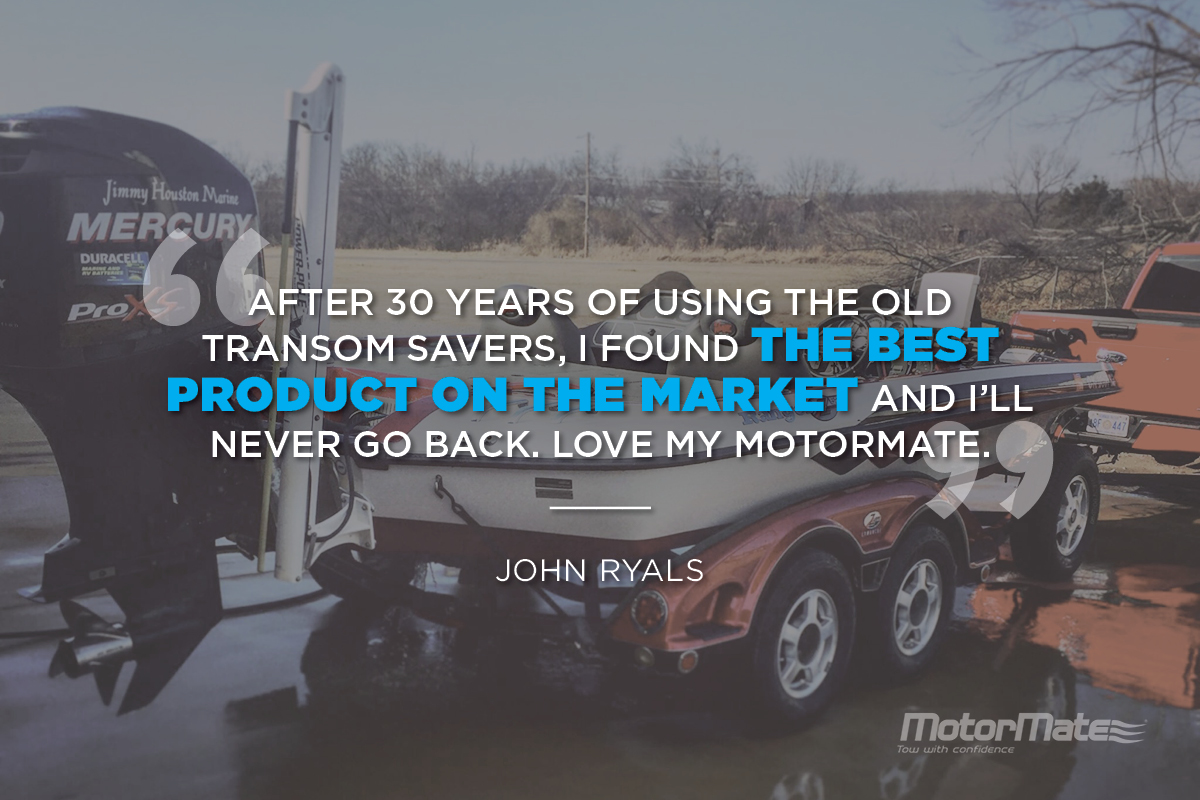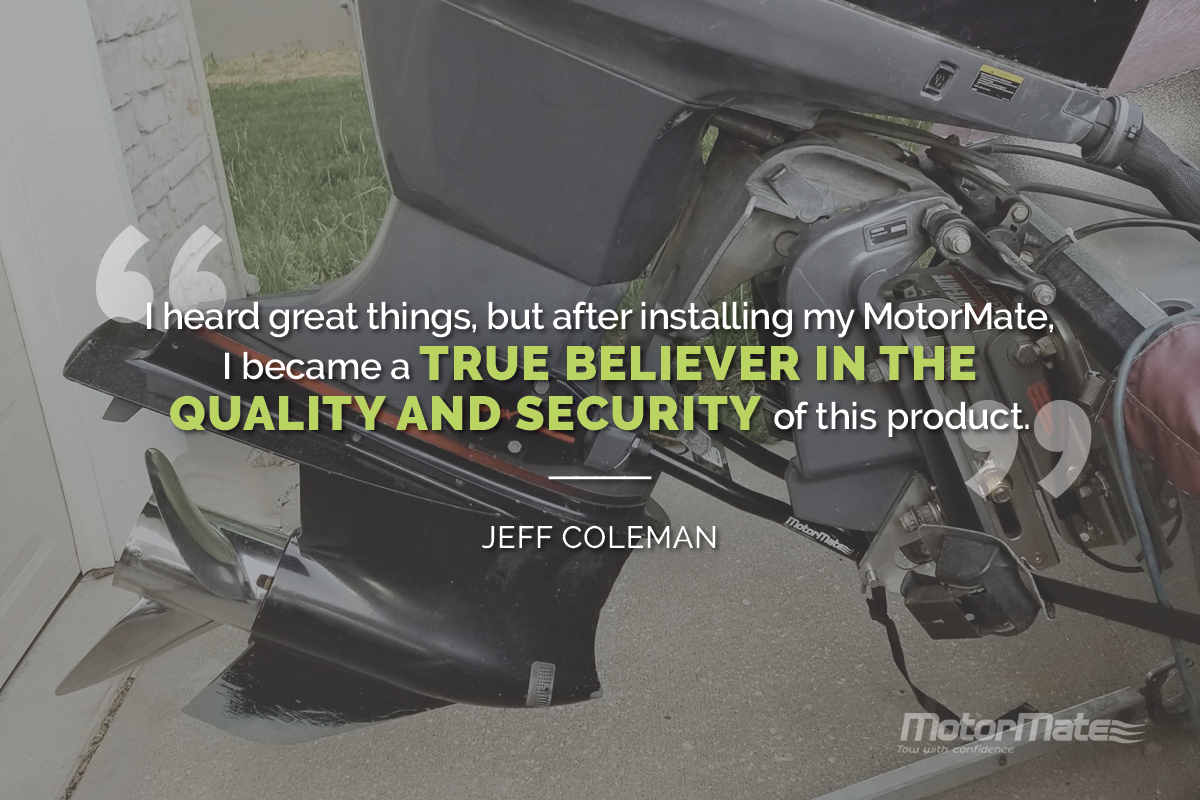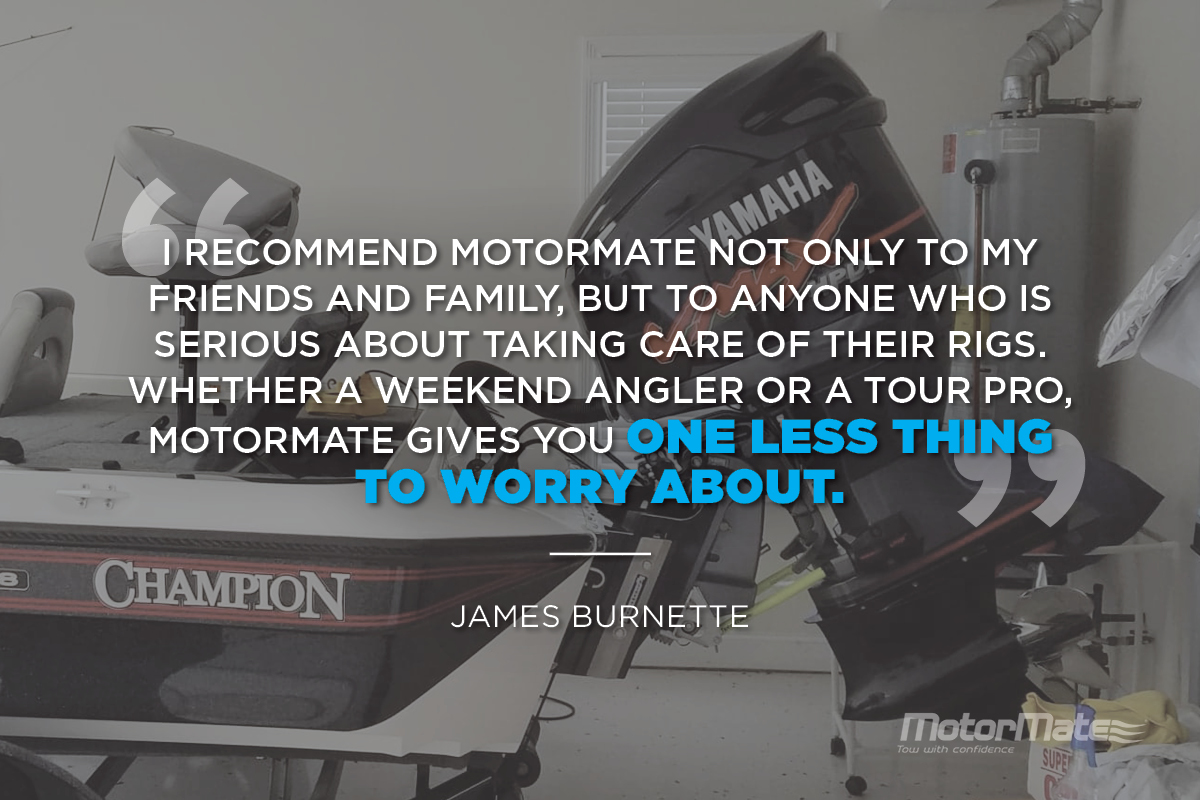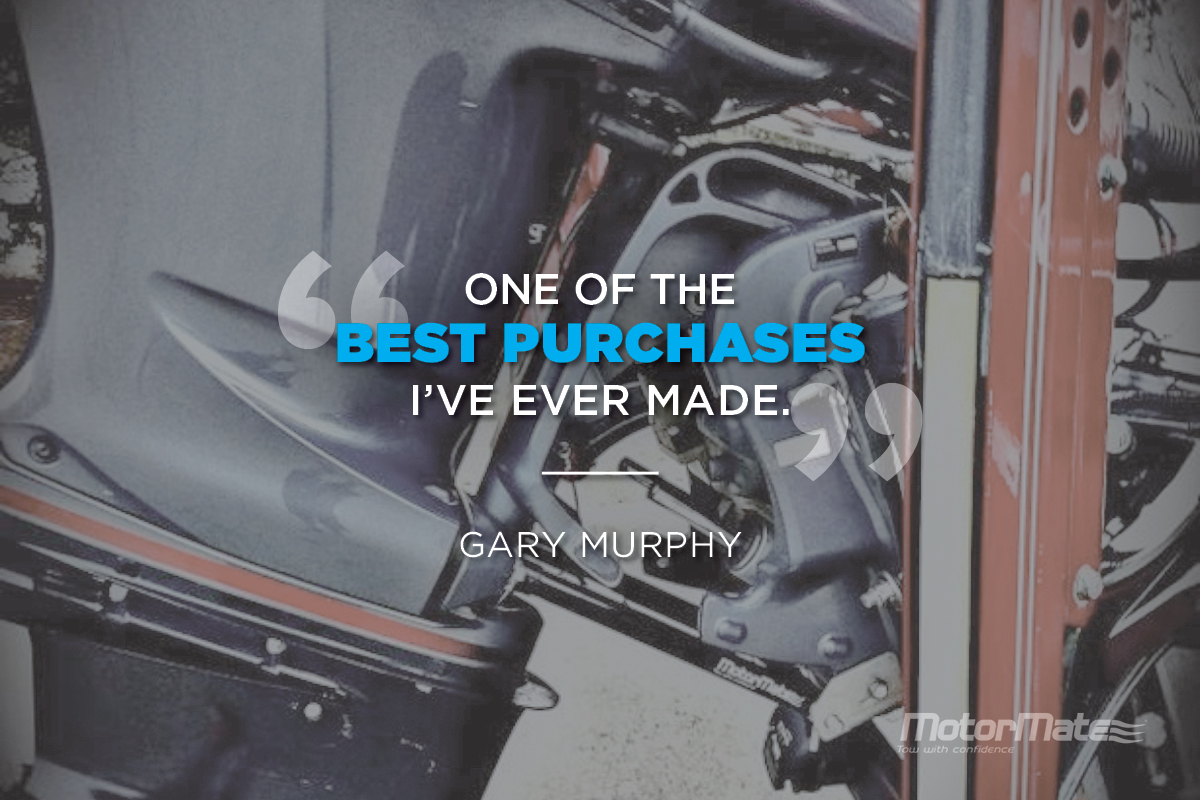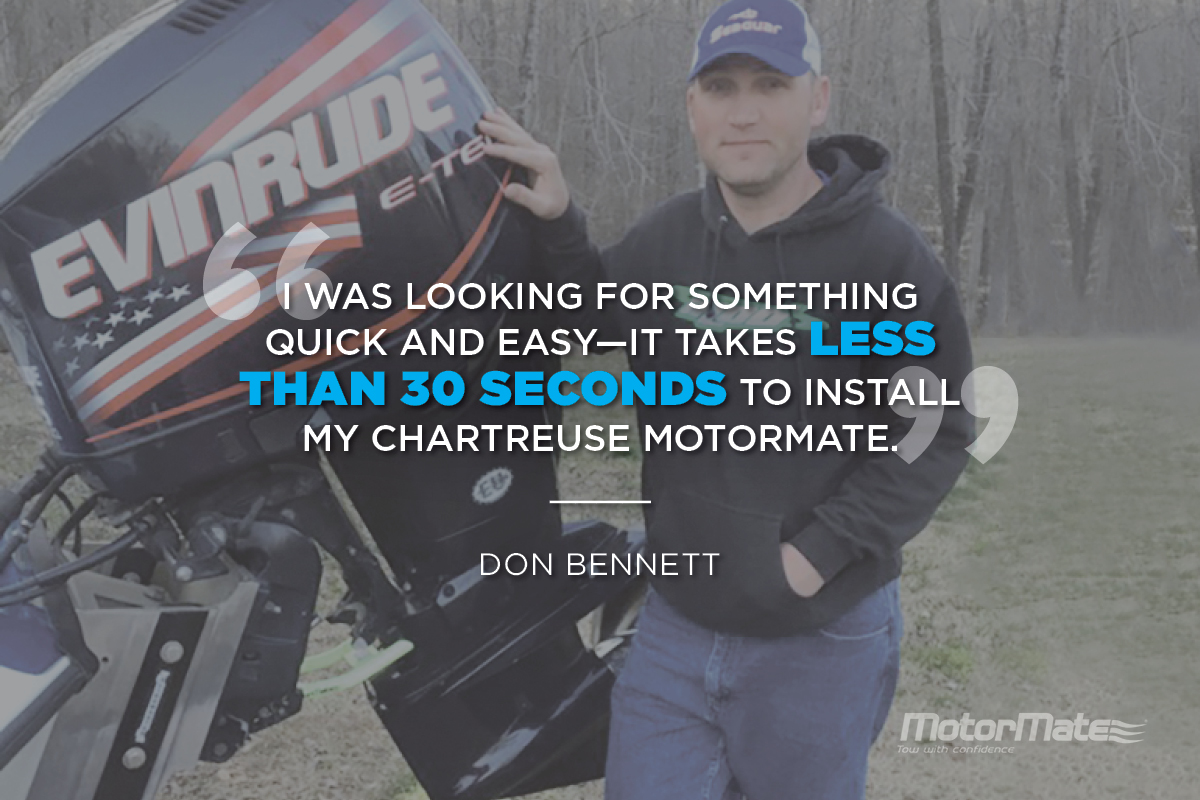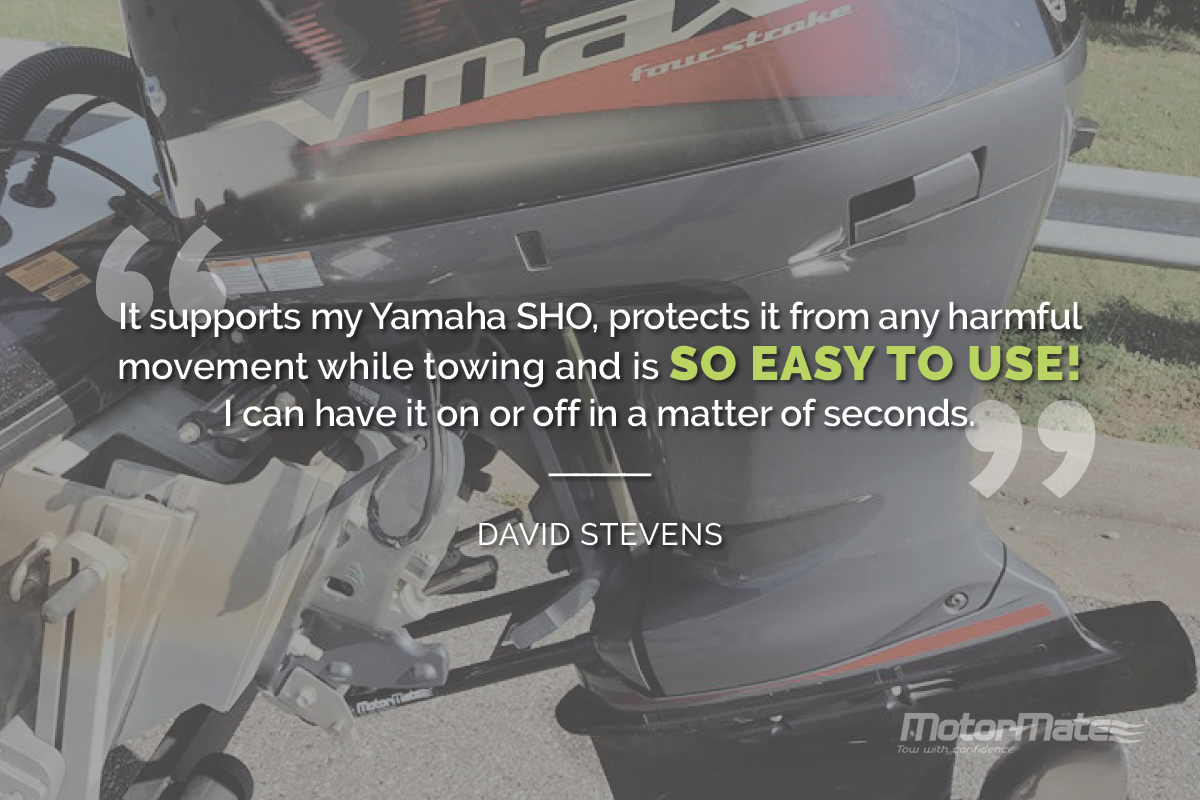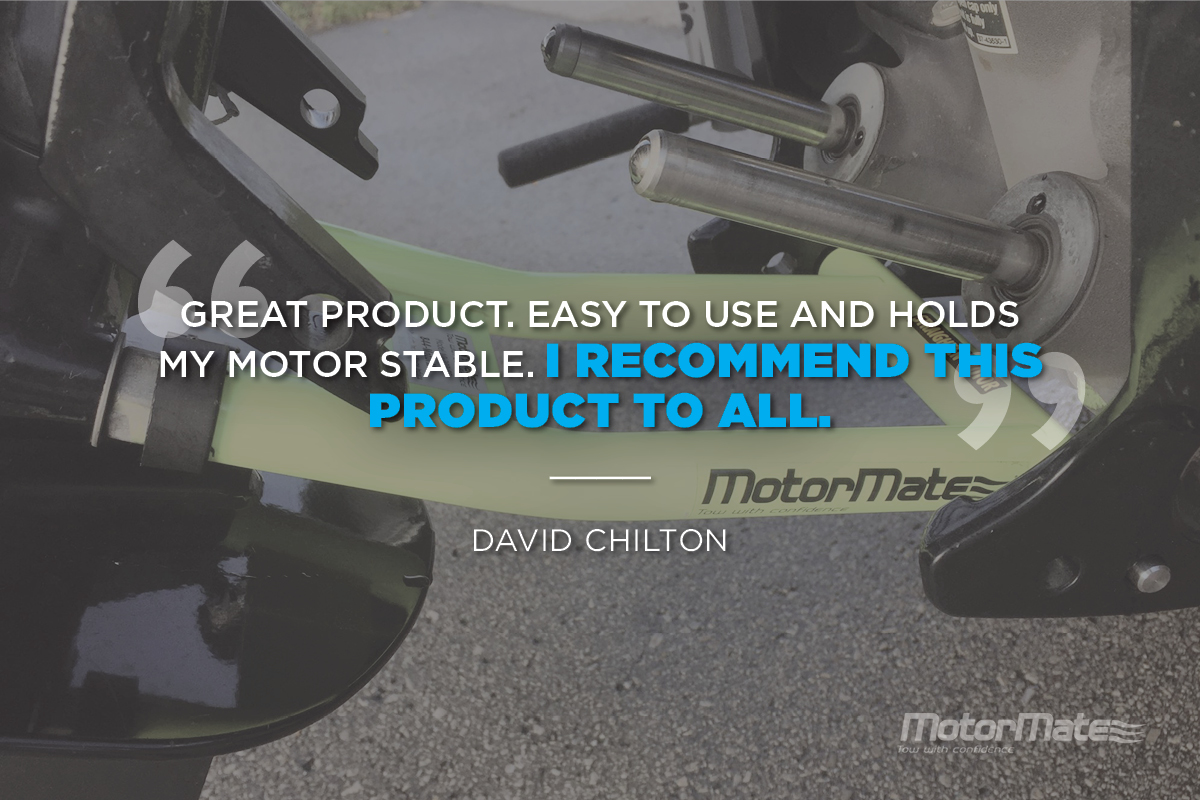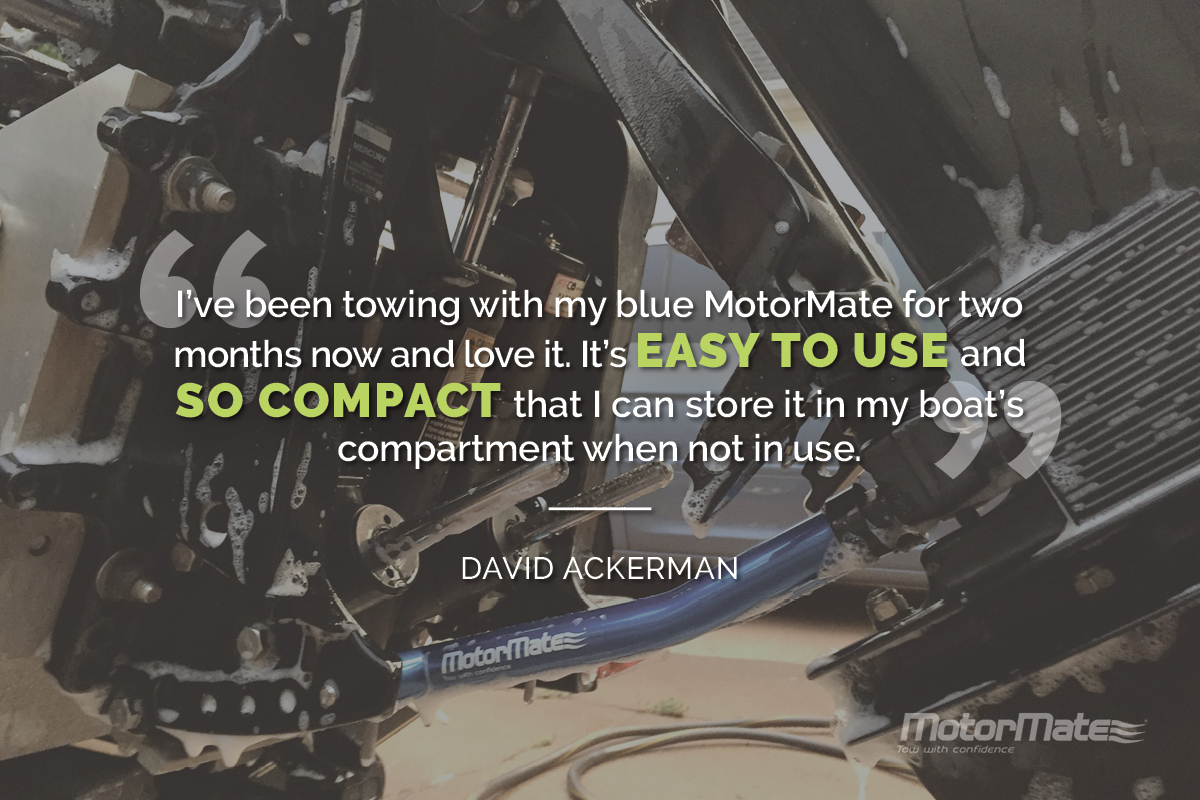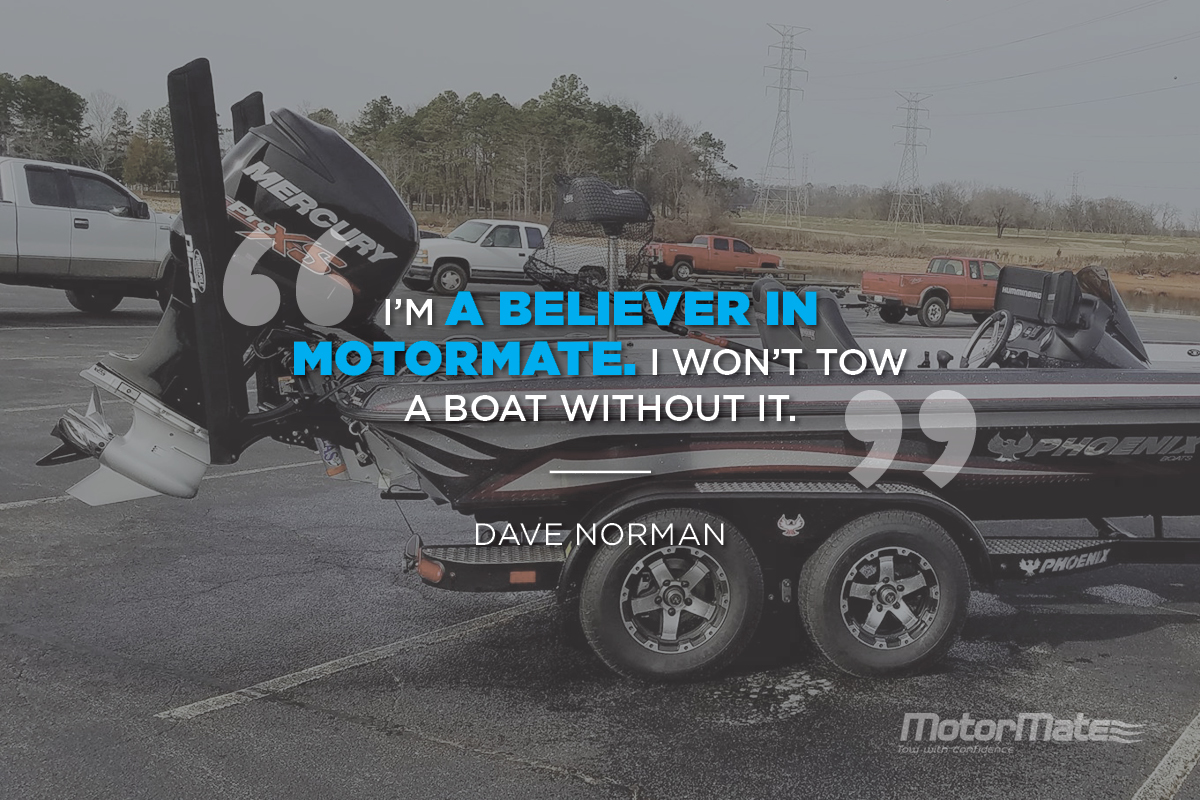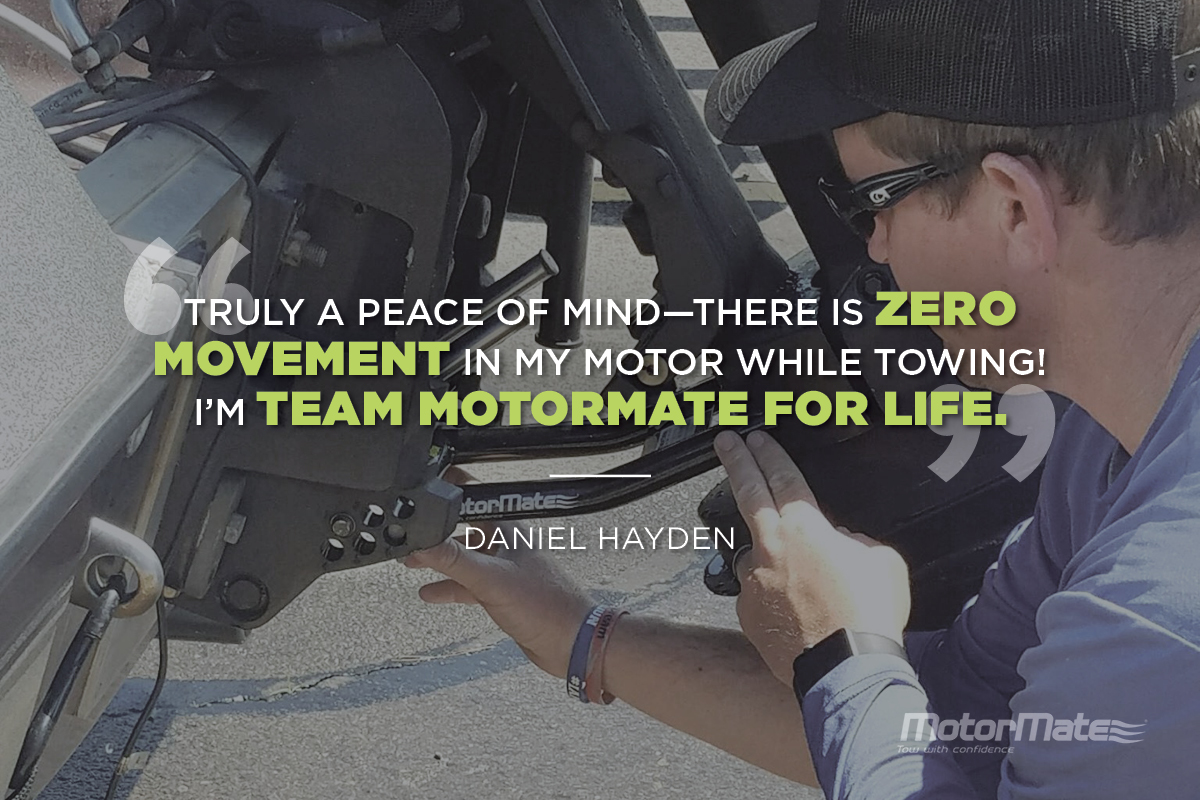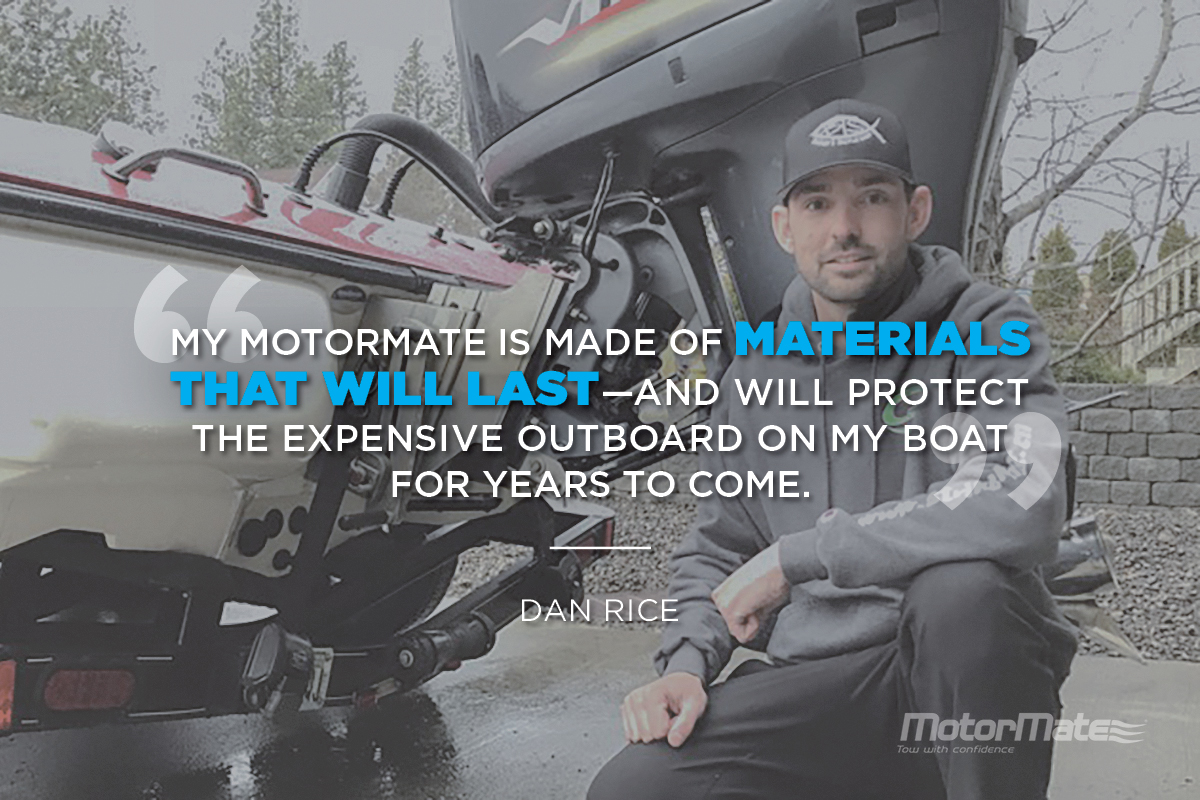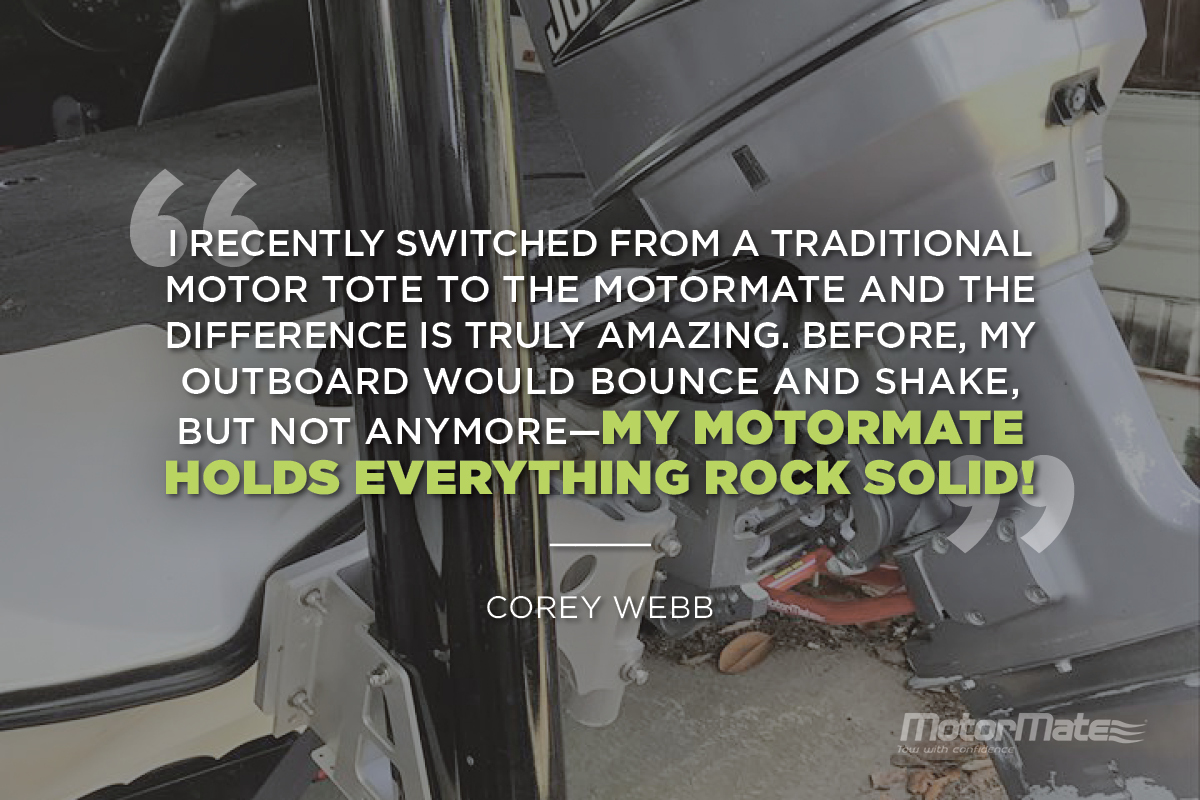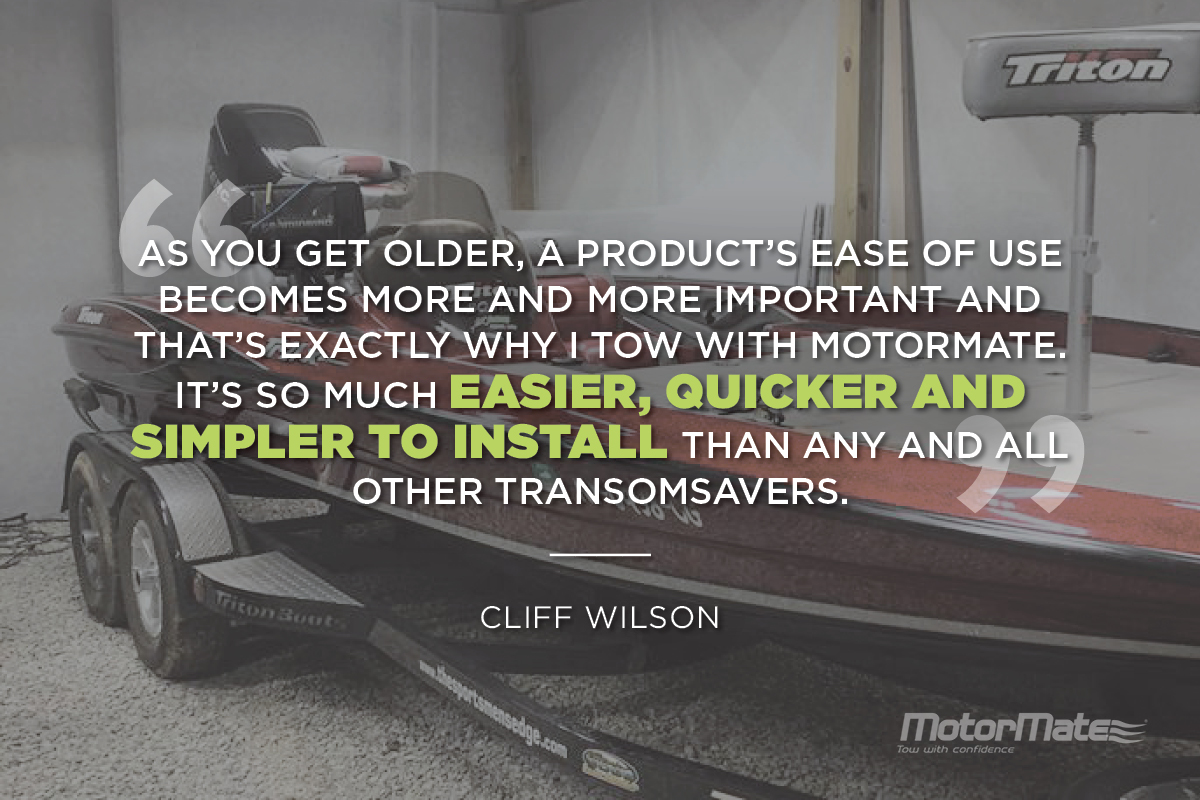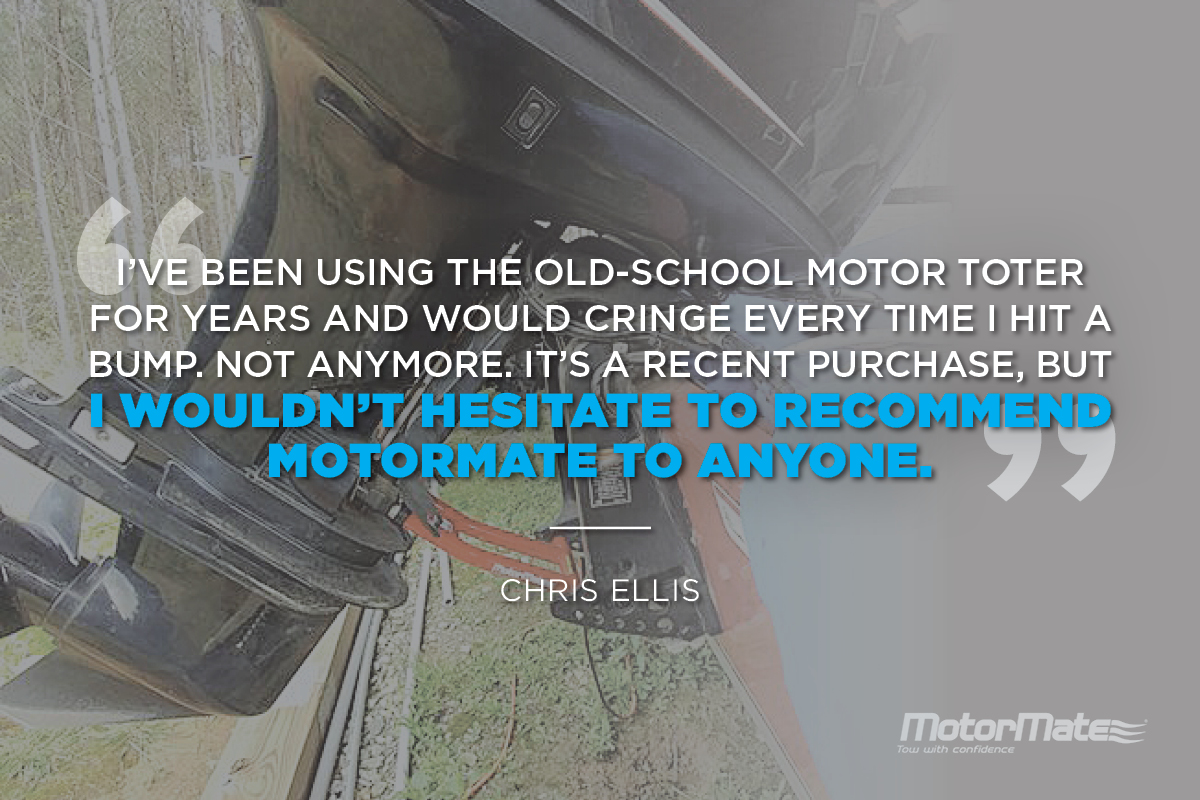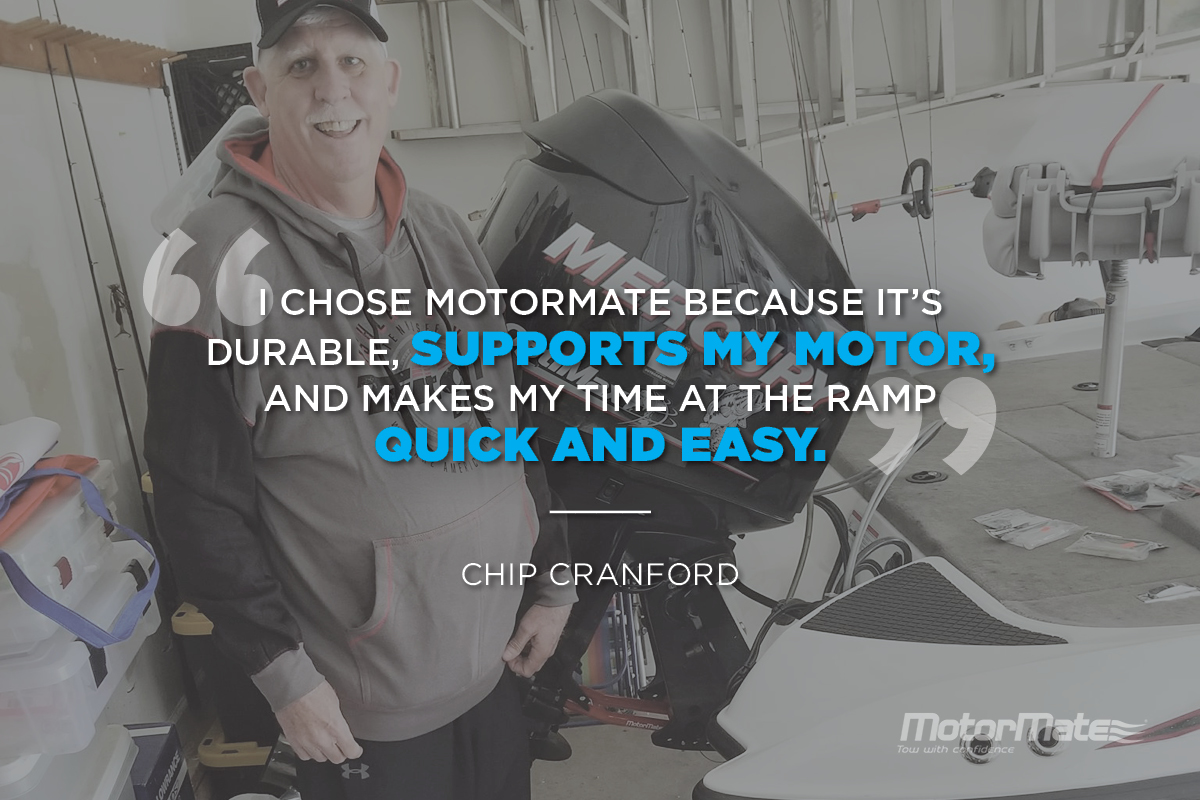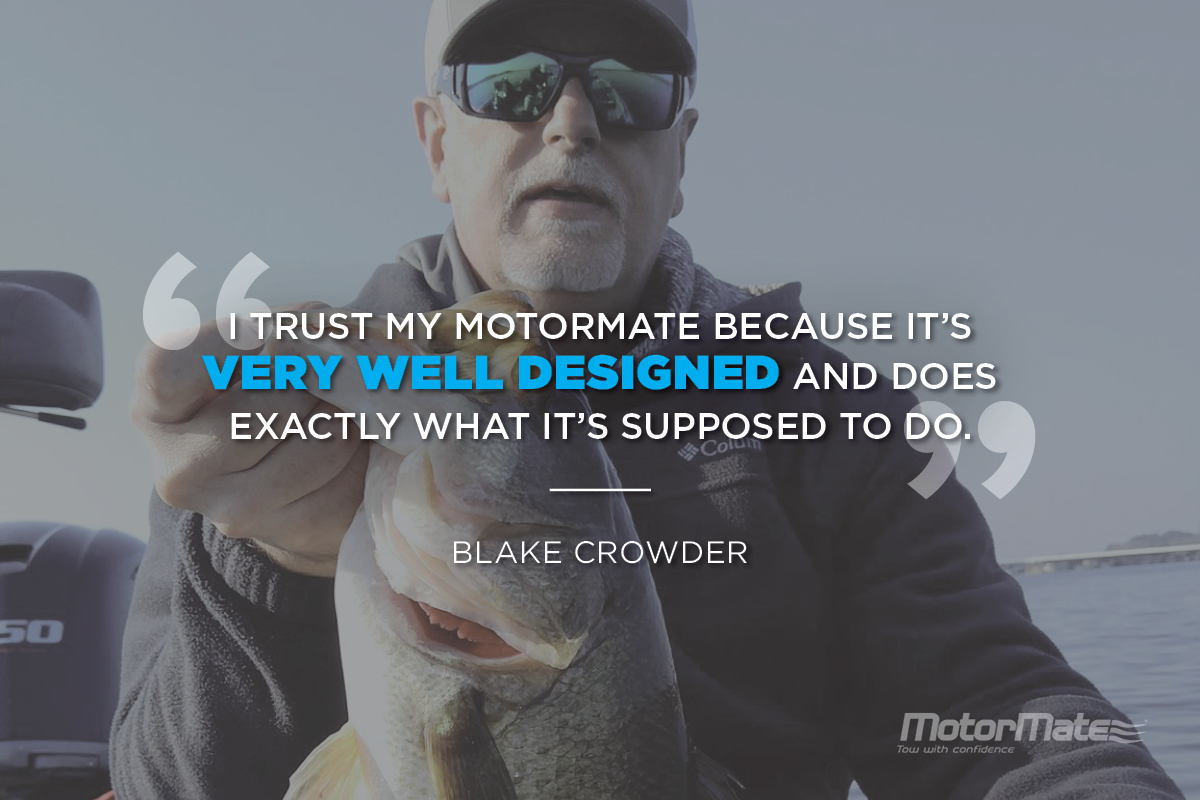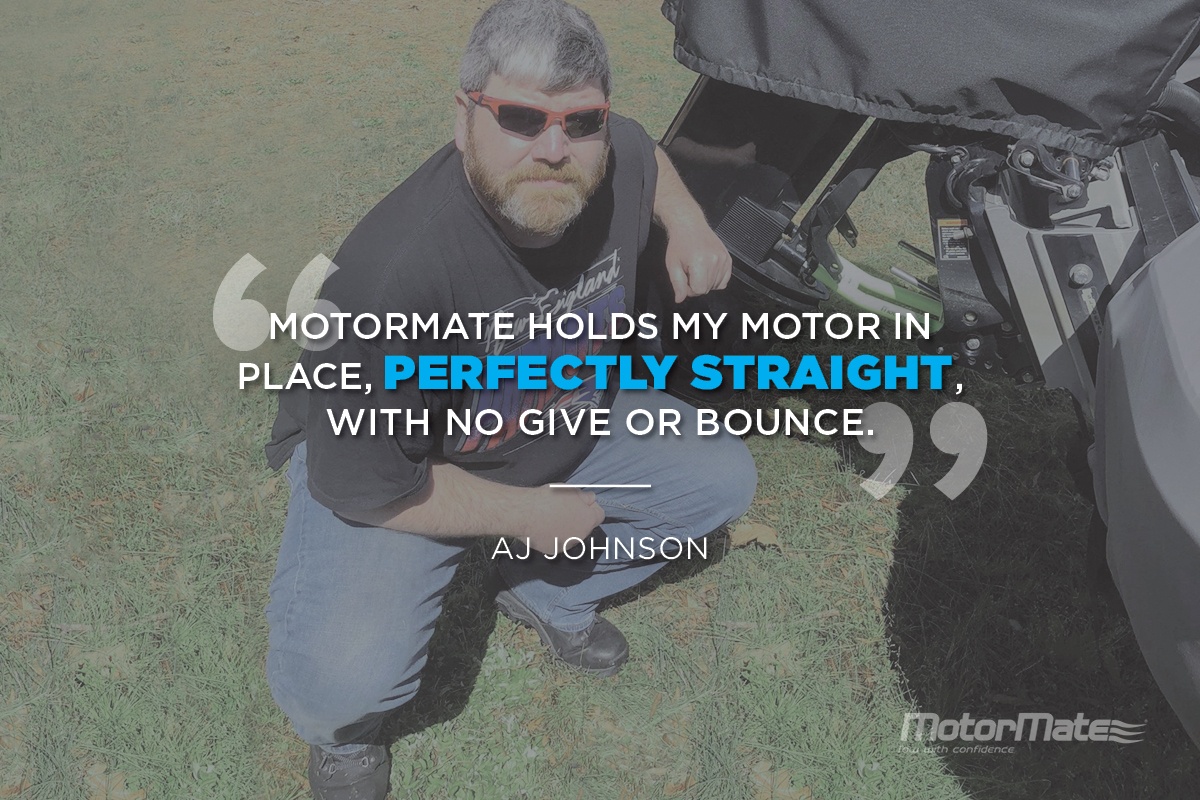 JT Kenney from Florida — FLW Tour Professional
Timmy Horton — BASS Elite Series Tour Professional
"Very easy to use and I don't have to crawl around like I did with a traditional motor toter."
Skylar Hamilton – BASS Elite Series Tour Professional
"Best thing since sliced bread."
Timmy Horton — BASS Elite Series Tour Professional
"Absolutely love my MotorMate!!!"
Dave Lefebre — BASS Elite Tour Series Professional
"You guys make an awesome product!"
Brad Knight – FLW Tour Professinal
"I absolutely love it and now that my dad has seen it, he wants one too!"
Greg Ralph from Australia
"Thank you very much with you kind assistance in acquiring a MotorMate for our new boat. It has performed flawlessly. Unfortunately, the fish have not responded in like manner."
Gary Sullivan in Louisiana
"I just want to say a big thank you to all you great people at MotorMateusa.com for the great accessory security add-on for my 115 Mercury Optimax outboard. I don't know how I did without it in the past, I feel just so much better knowing that there is nothing going on the backend of my champion bass boat while heading to the fishing hole. Thanks a million."
Perry Matherne from Galliano, LA
"Just gotta say I love my MotorMate! It holds my motor rock solid. I was just blown away by how quickly I received it. I don't know how you guys got it to me so fast. I ordered it one day and literally two days later it shows up on my step in MN."
Luke Rosten
"I would like to let you know that your product is first rate all the way! I am glad to see that there is still an American company that cares about producing a quality product."
Glenn Helley
"Really appreciate the hospitality and communication, truly a pleasure talking and doing business with you! Great product, sure beats the old transom savers. You think I'm rough on your product, I can't count how many aluminum ones I went through. I can pretty much destroy anything you put in front of me! Haha!"
Kasey Summers
"Just received my MotorMate for my 70 hp Yamaha. It was as advertised. Took only 5 minutes to install and the first time out traveled great. I'm a happy camper in that I have been looking for something like this for a long time."
Colonel (Retired) M.L. Handy
"Just wanted to let you know what a great product the MotorMate is — wish I would have bought one years ago."
Johnny Helems
"Just thought you all would like to know that I put your MotorMate to the test on 7-27-2014 and it PASSED! While returning from a crappie fishing trip, I had a blow out on my boat trailer that caused my boat trailer to leave the highway and the location was where the shoulder of the road dropped off about 10 feet. My trailer started to come around beside my truck, thus causing the trailer to start to cross up in highway. At that point the trailer & boat came up to a driveway and hit the culvert that was under the driveway and then the boat went airborne. The boat flipped a number of times (I don't know how many) and when the boat came to rest on the side of highway, it was separated from trailer and had road rash on the bottom and both sides, one side was caved in, and the motor had slammed down on the pavement.
After all was settled and we went to move the boat out of the highway, I went to the boat motor and raised it off of the MotorMate so that it wouldn't damage the foot any more than it was. Yes, I said I had to raise the motor off of MotorMate because it was still in place and holding tight. Upon further inspection of the MotorMate, I found that the only damage that I could see was that the cups where it connects to the motor were slightly damaged. Other than that it appeared to be good to go. Thus, when I found another boat, I called MotorMate and ordered another one for the motor that is coming on the new boat. I feel this is the best product of its kind there is out there."
Larry in Mississippi